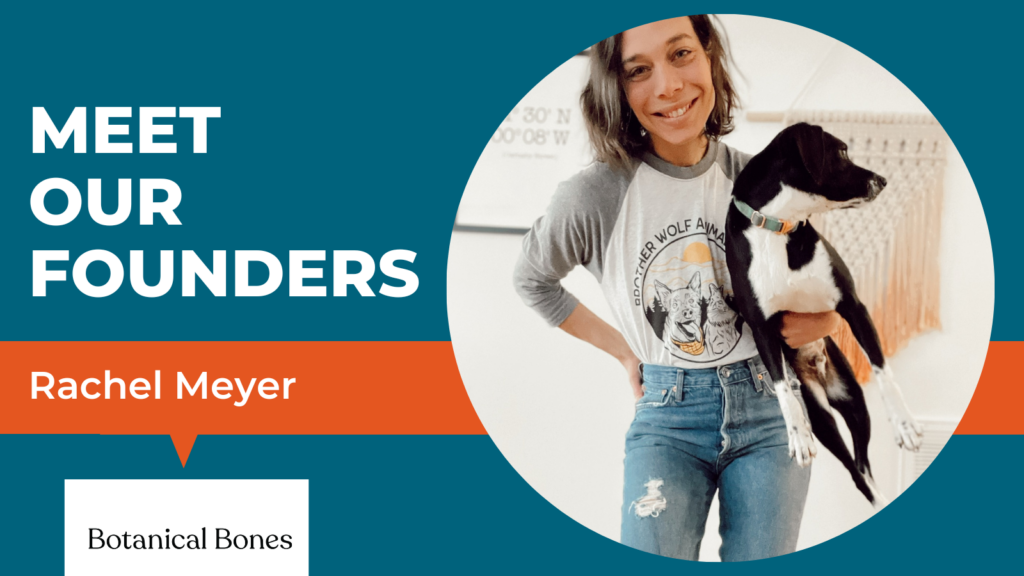 Rachel Meyer
Botanical Bones – SEED Spring 2022
Published October 12, 2022
As part of our 'Meet Our Founders' series today, we introduce Rachel Meyer, Founder of Botanical Bones based in Asheville, NC. Botanical Bones is a small batch dog treat business with nutrient dense, plant-based treats made with superfoods, adaptogens and lots of peanut butter!
Q: What problem are you trying to solve and what influenced you to start your company?
A: We are on a mission to elevate the dog treat space by providing a nutritious option for pet parents who deeply care about their dog's health and wellness.
Q: What are you most excited about right now? What keeps you up at night?
A: I'm so excited to get operational in our new kitchen – made possible with this grant. I'm also incredibly excited about the new product launches we have in the pipeline.
Q: Who do you look to for advice and mentorship?
A: My Elevate Asheville mentor team has been incredibly supportive!
Q: What other passions do you have besides your business?
A: Yoga!
While visiting Asheville, Rachel recommends:
Asheville is a magical place with endless options – it's so hard to choose! We always recommend going for a hike with the dog at the NC Arboretum, having coffee at Farewell. Wander around the River Arts, tacos at White Duck. Bop around downtown and grab a juice and snack at Pulp + Sprout. Dinner at Haywood Common or Leo's Winebar.

Support Rachel and Botanical Bones by:
Spread the word! Connections to distributors or partnership opportunities are also very helpful!