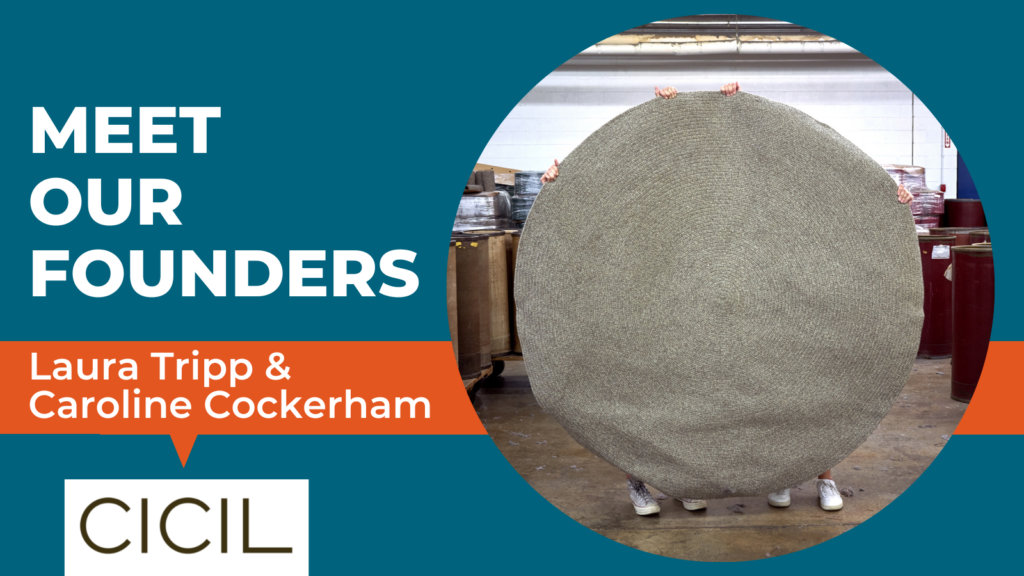 Laura Tripp & Caroline Cockerham
Cicil – SEED Spring 2022
Published October 12, 2022
As part of our 'Meet Our Founders' series today, we introduce Laura Tripp & Caroline Cockerham, Co-Founders of Cicil based in Wilmington, NC. CICIL is a sustainable home goods brand producing all natural, non-toxic area rugs and other home textiles in the USA.
Q: What problem are you trying to solve and what influenced you to start your company?
A: Home textiles – and area rugs in particular – are largely made with synthetic materials and often finished with toxic chemicals that are disguised as easy care finishes. This is a huge problem not only environmentally, but also for our health and the health of our families. We are material developers by trade and after years in the industry we really wanted to try a different approach. We created CICIL to make design forward, heirloom quality textiles in an entirely domestic supply chain — our rugs are made to order right here in North Carolina.
Q: How will your NC IDEA grant funds advance your company?
A: We've already launched our first collection of East Coast Wool rugs so we will be using this funding primarily to reach new customers, refine our ecommerce experience, and launch new fiber stories. As a company that has been entirely bootstrapped so far, this funding is a huge opportunity for us to focus on growth and sharing our story and product as widely as possible. We're really excited about where we can take CICIL over the next few months with NC IDEA's help!
While visiting Wilmington, Laura and Caroline recommend:
We love Dram Yard for great cocktails and food!

Support Laura and Caroline and Cicil by:
Right now, we're trying to spread the word about CICIL as much as possible – join our email list, follow us on Instagram, tell your friends! We'd love to engage with you in any way we can.