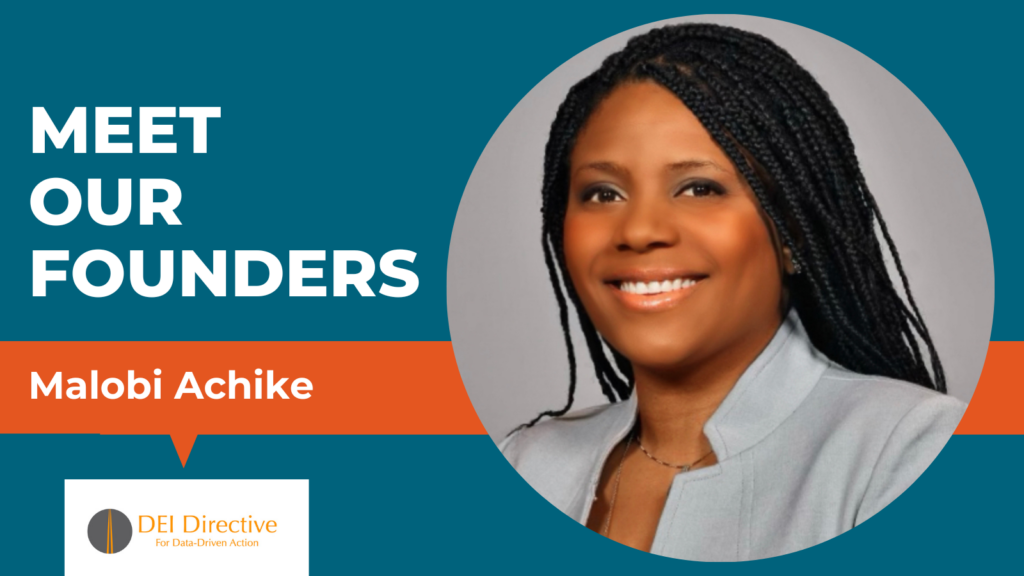 Malobi Achike
DEI Directive – MICRO Spring 2022
Published July 13, 2022
As part of our 'Meet Our Founders' series today, we introduce Malobi Achike, Founder and CEO of DEI Directive based in Charlotte, NC. DEI Directive is a Diversity, Equity and Inclusion (DEI) Technology firm helping organizations proactively and effectively manage their DEI health to improve their employee engagement, belongingness and retention, reduce turnover rate, and increase innovation, productivity and overall financial performance of the organization.
Q: What problem are you trying to solve and what influenced you to start your company?
A: One of the biggest problems organizations are facing right now is how to attract and retain talent. The last couple of years have made it particularly clear that the status quo for how organizations have traditionally operated is no longer resonating with employees and is causing them to leave in droves.
At DEI Directive, we help organizations holistically assess and diagnose their Diversity, Equity and Inclusion health, so they take targeted and informed actions that will improve employee engagement, belongingness and retention, transforming the workplace so it works for everyone and reducing turnover rates.
I worked in corporate America for over 10 years in a variety of roles (business development, customer experience, operations) and during that time, I led and championed some of the organization's biggest Diversity, Equity and Inclusion efforts as the Chair of the Women Community Outreach group and Co-Chair of the Global Black Employee Network.
Through that experience, I saw first hand strategies that worked, didn't work and had a great deal of insight into what must change for the efforts to better correlate to actual results that are sustainable in the long run.
Q: What are you most excited about right now? What keeps you up at night?
A: I am incredibly excited that our solutions are resonating with potential customers. That the vision we have of how our solutions can transform their organization is resonating and they get it.
What keeps me up at night is just not being where I know we will be. But this is just the impatient side of me coming out. I usually refocus that energy by revisiting my list of action items, reminding myself to trust in the process and then get back to work working through our strategic action items.
Q: What does the road ahead look like for your company?
A: We are so incredibly excited for what is on the horizon for us. We have kicked off phase 2 for our software development and should have the full product completed later this year. When that happens, it would be the most important milestone for the company yet and we are just so ready and eager to get there.
We have also secured some key strategic partnerships and are looking forward to see those become solidified and evolve.
Q: How will your NC IDEA grant funds advance your company?
A: This grant has come at an incredibly critical point of this company. With this grant, we will be able to fund the full completion of phase 2 of software development met. This phase will include:
– expansion of benchmarking features
– expansion of reporting features
– buildout of compliance features
– buildout of learning features
– buildout of survey functionality
– buildout of progress assessment function
While visiting Charlotte, Malobi recommends:
Take in one of many local concerts or visit Carowinds for a more adrenaline induced good time. Eat at Copper/Tabla for divine Indian food.

Support Malobi and DEI Directive by:
Thank you for reading. We are rapidly building so help connecting us with:1) Potential Customers – specifically Chief Diversity Officers, Chief Human Resources Officers at organizations of 100 or more employees.
2) Strategic Partners – companies that are already doing business with our customers
3) Investors