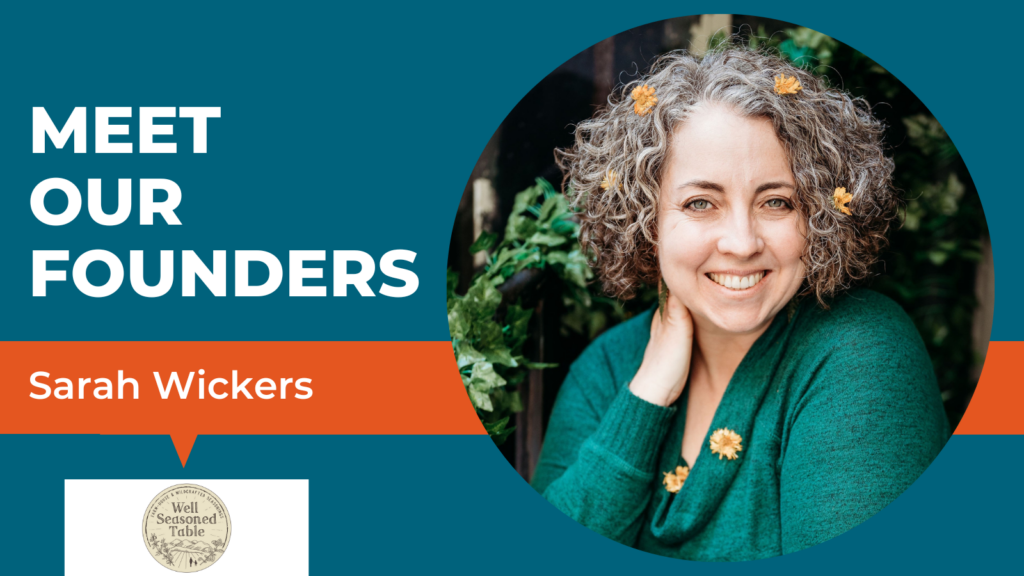 Sarah Wickers
Well Seasoned Table – SEED Spring 2022
Published December 15, 2022
As part of our 'Meet Our Founders' series today, we introduce Sarah Wickers, Founder and CEO of Well Seasoned Table based in Candler, NC. Well Seasoned Table produces farm-grown seasonings, infused sea salts & sugars, and herbal beverages in small batches, delivering unique and delicious flavors.
Q: What problem are you trying to solve and what influenced you to start your company?
A: We believe that it is important to know where your spices come from. We source from family farms, locally first and then regionally, to keep money in our community and in the hands of farmers and local small businesses.
There is currently no transparency in the spice industry about sourcing. There are no other spice companies, that we know of, sourcing almost entirely from US small farms. Most, purchase their ingredients from China or India in 100 lb. bags and then make blends or repackage them. There has never been a spotlight on where spices are grown, how they are being grown and transported, or what quality control is like. Most spices, by the time they hit the grocery store shelves, are already a year old and have had to be irradiated to keep mold and bacteria from growing. They are sprayed with chemicals that are banned in Europe and many other countries. We believe that consumers deserve to know this and to realize how much more flavorful farm-fresh spices really are. Cooking with fresh seasonings is eye-opening. In a world where the farm-to-table movement is gaining so much traction, it is time to shine a light on why we are still buying spices from across the world when we can buy them from within our own community. We are here to provide a farm-to-table spice experience.
Another concern is about keeping money in the pockets of American farmers and their families. This supports biodiversity in agriculture and helps keep small family farms alive, in a time when large corporate monoculture farms are growing and taking over the underdog.
Finally, in any community, there is a great deal of waste. Small and large businesses have organic waste or by-products. Finding a use or buyer for that waste to repurpose it can be tricky and time-consuming. We see that problem and are taking steps to address it in ways that are also beneficial to Well Seasoned Table.
Q: What have you enjoyed most about starting your own company?
A: My favorite part of owning my own company is getting to work with other small businesses and farms that supply us with our ingredients. Our customers are not just supporting Well Seasoned Table, but many, many other local businesses as well. Getting to work with such incredibly fresh, flavorful, and unique ingredients is an honor.
Q: What is your favorite local business to support?
A: Weekly tailgate markets are a powerful place to spend your money. Instead of dropping money at your chain supermarket, do your weekly food shopping with the farmers and bakers that you call your neighbors.
While visiting Asheville, Sarah recommends:
Asheville has so many incredible restaurants it is really difficult to just choose a few. Some of my favorites are ELDR, Hemingway's Cuba, Rosabee's, Amicizia, and you can't forget The Hop for ice cream!
Support Sarah and Well Seasoned Table by:
Follow us on social media, order direct from our website, or recommend us to your favorite local retail spot!