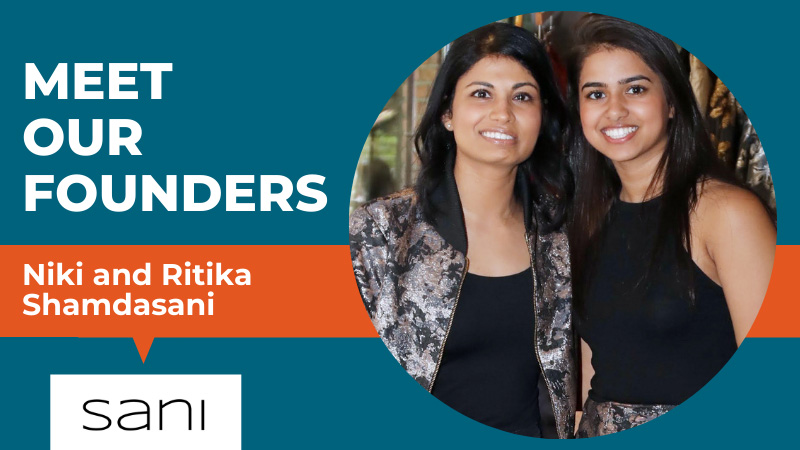 Niki and Ritika Shamdasani
Photo credit: Justin Eisner

SANI – SEED Fall 2021, MICRO Spring 2018
Published December 9, 2021
As part of our 'Meet Our Founders' series today, we introduce Niki and Ritika Shamdasani, founders of Sani based in Fayetteville, NC. Sani is an apparel brand inspired by South Asian culture.
Q: Tell us, when did you know you wanted to take an entrepreneurial path?
A: Ritika and I realized that we've always wanted to take an entrepreneurial path, probably because of our parents. Our parents immigrated to the US from India and built new lives for themselves. Our dad started several businesses with his six brothers and sisters so we grew up seeing a family full of entrepreneurs in action.
Q: How will your NC IDEA grant funds advance your company?
A: The NC IDEA grant funds will help us at least 4x our monthly revenue by funding quicker product development and experiments with some new scalable customer acquisition channels.
Q: What is one thing you wish you understood about entrepreneurship before you ever got started?
A: If it's meant to be, it doesn't mean it will be easy. I thought that things would get easier when our business was working, but that was the wrong mentality. Having to constantly problem solve is inherent in running a business and the challenges only get bigger as things start working. When I shifted my mindset to stop thinking things were happening to me to thinking they were just normal problems to solve, that helped in a huge way.
While visiting Fayetteville, Niki and Ritika recommend:
Eating at Boonma Thai and the Vietnamese Restaurant
Support Niki, Ritika and Sani by:
Spreading the word about Sani
Sharing referrals for supply chain/operations hires